5 Ways to Incorporate Reclaimed Wood Into Your Home
Antique lumber is hard to find, right?
Reclaimed materials only look good in vintage style rooms, right?
Barn wood is extremely expensive, right?
Wrong.
Whether your design style is rustic and country, totally modern or daring and dramatic, there are an infinite number of ways to incorporate reclaimed wood into a home (and do so at an affordable price). The right touch of antique wood can immediately add character and history to a room, which is why reclaimed lumber is quickly becoming one of designers' favorite materials.
At Woodstock Vintage Lumber, we've been helping people bring a a piece of history into their homes and businesses for over 20 years. We work with people to help bring their visions to fruition, no matter how big or small (think everything from accent walls and trellises to a single board for a DIY picture frame) their projects may be.
Need a little inspiration? Here are five of our favorite ways that you can incorporate reclaimed lumber into your home.
1. Flooring
With wide plank flooring in your home, you can strike a balance between modern interiors and the unique character of an antique floor. Wide plank flooring creates a look in your home that recalls the days before mass-produced lumber, when every plank was detailed with the finest craftsmanship.
2. Countertops
Live edge pieces are one of the latest trends in the design world. Our live edge countertops are handcrafted from solid wood slabs. These slabs display the natural knots, curves and color tones of the wood grain.
3. Furniture
Whether it's a tiny end table or a king size bed frame, reclaimed wood furniture is an easy way to add character to a room. View examples of our custom-built furniture (mantels, tables, beds and more) here.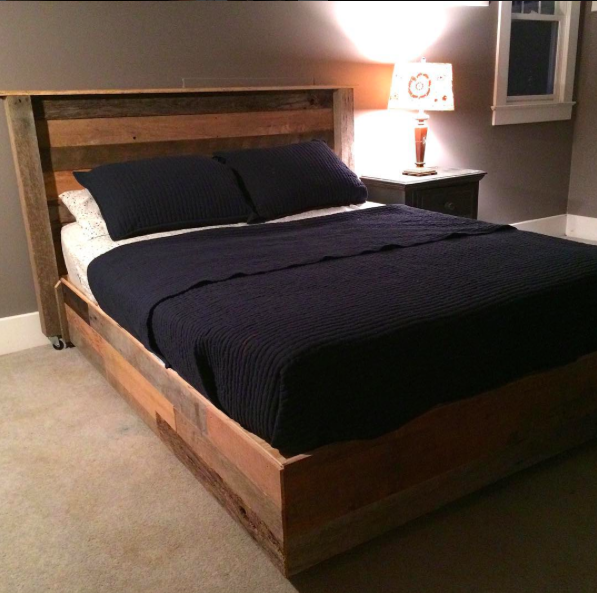 4. Barn Doors
Nothing says country charm quite like a pair of sliding wood doors. Have them open up to your porch, pantry or closet… either way, they are an attractive space-saving solution.
5. Lighting
Full beams or single pieces of wood (both of which are available for purchase in our lumberyard!) can be used to create beautiful light fixtures in a home. Check out this awesome light fixture that Caroll by Design created using one of our beams.